Team GB, and England Rugby Sevens captain Tom Mitchell came to the kitchen to serve up one of his favourite post-game recipes;
Read our exclusive interview with Tom here.
"This meal is a great, healthy dinner option, it's also nice comfort food (ideal now we're headed into winter in the UK). It's also a really simple, and quick meal to make, and it is really filling.
Pop the pearl barley in the water, it takes about 40 minutes of simmering before its ready.
Next, start chopping up all the key ingredients, like the chicken, onion, garlic & chorizo… doesn't matter how you chop it up, call it "rustic" if you've got more of a hack & slash style. Add it all (except the chorizo) into a pan, with a little oil (once the oil is hot) – I tend to use coconut oil, but whatever is in the kitchen is fine. Keep stirring all the ingredients, so they don't burn… once cooked, add the chorizo in as it doesn't take too long to cook… and is just adds a lovely colour to the dish.
Dice some cherry tomatoes, and pop them in for the final 2-3 minutes of cooking just so they soften and get a little heat in them. Also add some pepper too, I love pepper so usually chuck a lot in, but only add as much as you like, or you could absolutely add some chilli if that's what you like.
Next… pearl barley, once it is cooked can be added to the pan… stir & fold it all in… add yogurt, stir, and serve…"
Ingredients (serves 3-4)
Pearl Barley
2 x Chicken breast
1/2 x Chorizo
Greek style yoghurt (Total brand)
3 x cloves Garlic
1 x Onion
Rosemary
Pinch of Salt and pepper
Spinach
Cherry tomatoes
Rocket
Recipe
Boil some water, once simmering, add the pearl barley.
Slice the garlic, onion, chicken & chorizo into small pieces.
Fry-off the garlic, onions, chicken & chorizo.
Add in some chopped cherry tomatoes, and add salt & pepper to taste.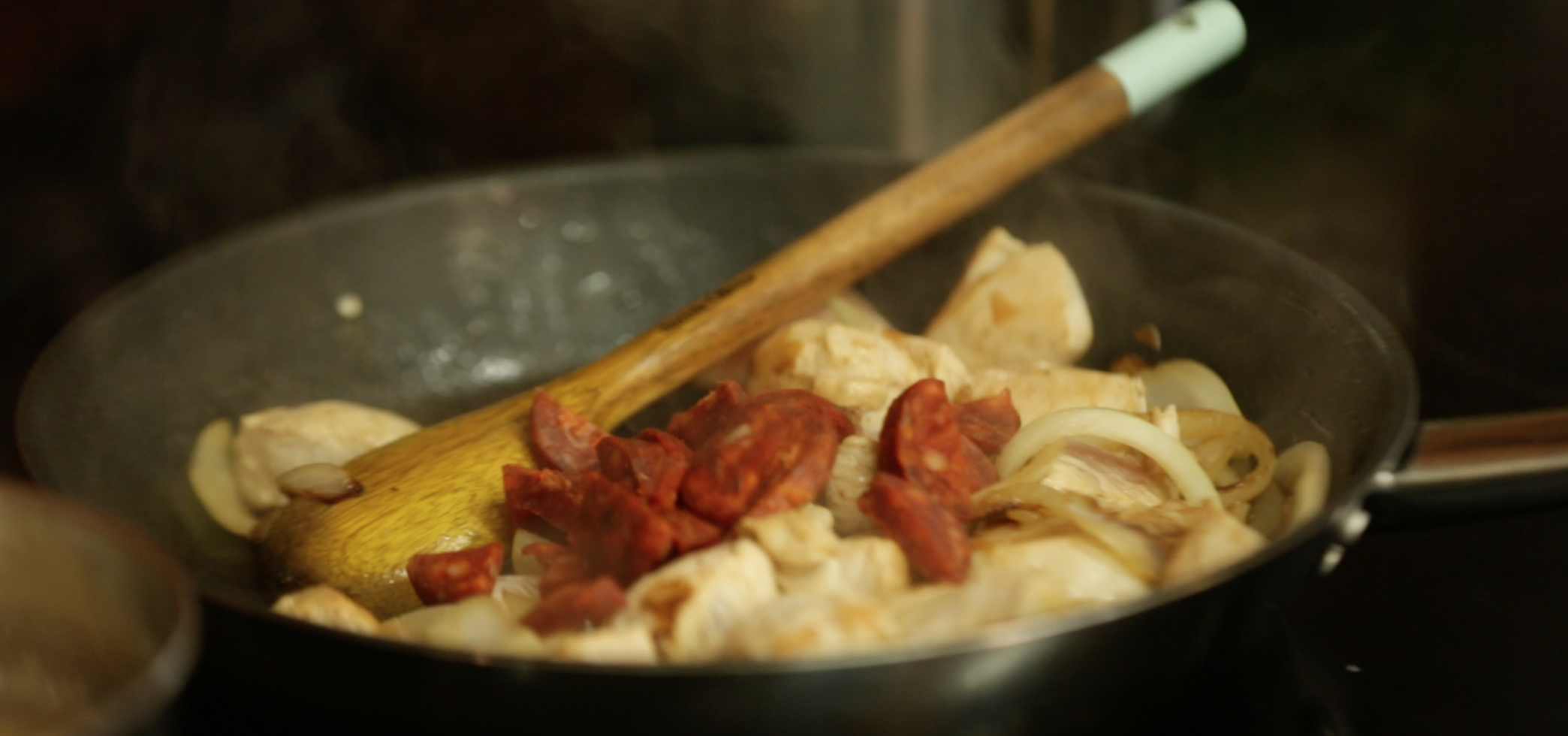 Drain the pearl barley & add to the frying pan.
Stir in some greek yoghurt.
Serve with a garnish of rocket, spinach, tomatoes & rosemary.